Collectible figures are a popular form of merchandise that often take the form of characters from a variety of different series from pop culture. While figures for some television and video game series are also made, most Japanese figure manufacturers often focus on popular anime and manga characters. As such, hundreds upon thousands of individual figures with iconic poses are available for purchase from many different vendors like physical stores and online shops. Several different styles of figures are also available that each have their own set of perks and drawbacks. Some of the more widely available types of figures are action figures, scale figures, and chibi figures.
Action Figures
These figures are similar to what many in the Western world are familiar with, but are often taken to the next level when talking about otaku merchandise. While many often think about cheap plastic toys designed for children when thinking about action figures, these figures are of much higher quality and are often much more expensive than what you would find in a child's toy box. Despite the notable difference in quality, however, these figures still function similarly to other action figures. Otaku merchandise labeled as "action figures" often have a great amount of articulation, particularly in the joints, allowing for a user to create a variety of different poses with the figure. Rather than playing with them, though, those that buy these figures often use their flexibility to recreate iconic scenes and poses from whichever series the figure came from. Cosplayers and artists can also use these figures as a reference to create poses that a specific character would make.
One of the most widely known lines of action figures is the figma brand, which is owned by Good Smile Company. This series of figures has released hundreds of different articulated action figures that often include various accessories as well. The figma line began in 2008 with a figure of Yuki Nagato from The Melancholy of Haruhi Suzumiya series. Today, the regular figma line has reached nearly 500 unique figures (though there are other figma lines as well). Some of these figures include blank, skin tone colored mannequins designed specifically for artists to use as a reference. One of the most prominent figma sculptors is a man named Asai Masaki (who also goes by the nickname APSY). He has contributed his talent to over 600 different figma figures.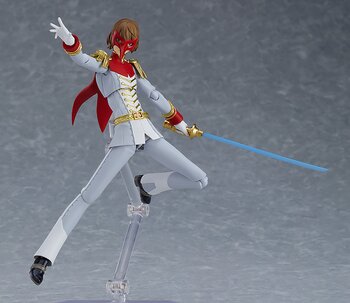 figma Crow (Persona 5) figure
Scale Figures
Scale figures are seen much more like collector items than action figures are, as they often have no articulation whatsoever. Though these figures offer little to no customizability, they often make up for this drawback with the sheer amount of detail and design that is put into them. As the name might suggest, "scale figures" are figures that attempt to perfectly recreate a given character to the very last detail. Scale figures can often be told apart from other figures by a fraction in their names, which usually refers to how big or small a figure is. For example, a figure with the fraction "1/8 scale" notes that the figure is one-eighth the size that the character would be in real life. A particular characteristic of most scale figures is that they often portray their characters in poses or unique outfits that make them stand out from other figures. There are several scale figures that portray female characters in rather risque outfits and poses, though others with a focus on more standard poses are available as well. Due to the sheer amount of detail and work that goes into scale figures, they are often the most expensive and can sometimes cost several hundred dollars.
Kotobukiya is one of the more popular producers of scale figures. Though the company also manufactures scale mecha model kits, their ArtFX J figure series has caught the eyes of many fans. The company has created well over one hundred different figures in dynamic poses that show off their respective character's personality. Figures of characters from many popular series have been created and include classics like Yu Yu Hakusho and Yu-Gi-Oh! to more recent hits like My Hero Academia, Fire Force, and Attack on Titan. Matsumoto Kouei is a sculptor that has worked on dozens of different figures for Kotobukiya, many of which are from the aforementioned ArtFX J line.

ArtFX J Attack On Titan Levi 1/8 Scale Figure by Kotobukiya
Chibi Figures
Chibi figures often refer to figures of various characters that take a smaller, cuter approach. This is, of course, in reference to the term "chibi", a Japanese slang term used to call something small or cute. These figures often have much larger heads and smaller bodies than usual, putting much more significance on the character's eyes and face. Due to their smaller size, chibi figures are usually cheaper than most action or scale figures, making them great for collectors on a tighter budget.
The most popular brand of chibi figures by far are Nendoroids, which are also created by Good Smile Company. One thing that makes Nendoroids special is that, like action figures, they have a rather impressive amount of articulation, allowing the figure to be posed in a variety of different manners. Other extra parts inspired by each figure's respective character are also included, further increasing the amount of potential customization. These parts often come in the form of face plates with various expressions, weapons or items, and visual effect pieces. Currently, there are over approximately 1300 Nendoroid figures have been announced, an overwhelming number for fans to look through. Although there are a number of sculptors that work on Nendoroid figures, many of them are collectively credited as "Nendoron".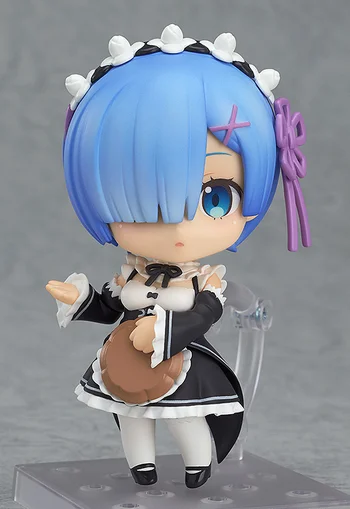 Nendoroid Rem (Re:Zero -Starting Life in Another World-) figure
Links
Figma Persona 5 Crow figure
ArtFX J Attack on Titan Levi 1/8 Scale Figure
Nendoroid Rem Re:Zero -Starting Life in Another World- figure
Table of Contents